Dangers Of OSHA Violations On Construction Sites
WASHINGTON, D.C. CONSTRUCTION ACCIDENT LAWYERS FOR WORKPLACE INJURY CLAIMS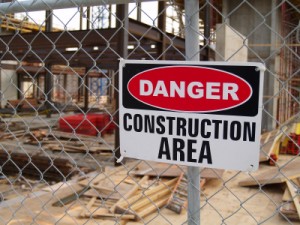 The Occupational Health and Safety Administration (OSHA) is the federal government agency tasked with investigating and issuing citations for alleged violations of the Occupational Health and Safety Act. Many construction accident injuries occur due to OSHA violations. If you have suffered a construction accident injury, your employer or the site owner may be responsible for violating or ignoring OSHA standards.
If you or someone you know is injured while working at a job site, contact our construction accident injury attorneys with years of experience handling claims in and around Washington, D.C., Virginia and Maryland. The work injury lawyers at Koonz, McKenney, Johnson & DePaolis L.L.P. have the specialized knowledge and resources to investigate construction accidents, analyze whether OSHA violations occurred and litigate against the appropriate parties without requiring any money upfront from our clients. Use our experience and only pay if you win to seek the justice your construction accident injury case deserves.
Common Types of OSHA Violations at Worksites That Can Lead to Construction Accidents
When a construction accident occurs, OSHA violations are commonly to blame. Most construction sites are guilty of OSHA violations in one form or another. In fact, OSHA reports that four out of every five construction sites have OSHA violations.
The Occupational Health and Safety Act covers a wide variety of safety requirements for workers on the construction jobsite, including:
The use of protective equipment, such as hard hats and eye protection
Standards for equipment and machinery
Regulations for harnesses
Provision of water to construction workers
Regulations preventing scaffold accidents
Shocking Scaffold Accident Statistics
Numerous OSHA violations may occur at construction sites, with the most common violations involving scaffolding and other types of fall prevention equipment. According to OSHA, more than 1/3 of all construction site fatalities in 2001 involved falls, and the most common fall hazard involved scaffold accidents. OSHA strictly regulates the maintenance and use of equipment that prevents ladder and scaffold accidents.
If you were injured while working on a ladder or scaffold, contact our construction accident injury lawyers immediately. Workers' comp and third-party claims after scaffold falls are time-sensitive – the longer a worker waits to file a claim, the more likely important information could be lost.
Reach out to our closest office location to you: Washington, D.C.; Greenbelt, Maryland; or Fairfax, Virginia, and a construction accident attorney will get started preserving evidence for your case.
Electrocution Risks on Construction Sites
Another common OSHA violation at a construction site involves grounding of power lines. As construction workers tend to work near or around underground or overhead electric lines, they are at great risk for electrocution.
While construction companies are supposed to ensure that all such lines are de-energized and grounded, these procedures often simply do not occur. The improper use and maintenance of portable tools can also lead to electrical hazards.
OSHA Excavation Violations
The third most common OSHA violation involves excavation work. The risk of fatality for excavation work is 112 percent higher than for general construction work. When companies fail to properly brace or ventilate trenches, workers face hazardous working conditions that can result in serious injuries or death.
What Happens When OSHA Standards are Violated on Construction Jobs?
The laws OSHA enforces apply to all worksites. OSHA's goal with respect to construction worksites is to protect construction workers, implement and enforce safety requirements, and minimize construction accident injuries.
OSHA violations can expose a construction company to significant consequences, including:
Work stoppages
Fines
Increased scrutiny by OSHA officials
Other costs and liability for any injuries to workers
If OSHA issues a citation to a construction company for a violation following a construction accident, the injured worker may have additional evidence to support a claim against the construction company or other responsible parties.
OSHA violations can show that a construction worker was working in unsafe conditions when the accident or injuries occurred. If you were hurt and the construction company you work for received a citation from OSHA, contact our offices in Washington, D.C., Maryland and Virginia to speak to our construction site accident attorneys about your best legal options today.
Contact Our Construction Accident Site Lawyers for a Free Review of Your Claim
If you sustain injuries or are involved in a construction accident while working in or around the Washington, D.C. area, your employer may be liable for your injuries. Contact construction accident lawyers at Koonz, McKenney, Johnson & DePaolis L.L.P. who may be able to conduct an investigation and help with your legal claim for damages against all the responsible parties on your behalf.
Call (202) 796-3287 for our Washington, D.C. office today for a free case evaluation.