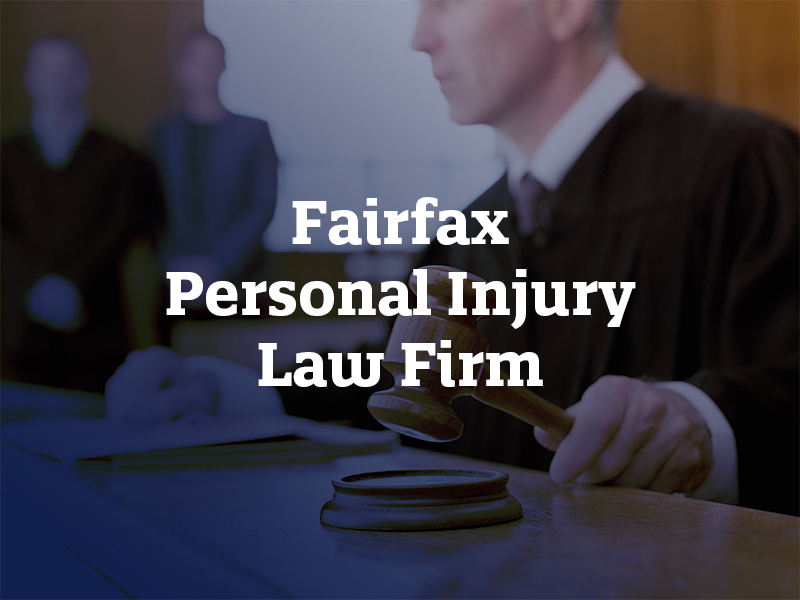 Suffering an injury through no fault of your own can add a tremendous amount of stress to your life. In addition to dealing with the pain caused by your injury, you may be facing mounting medical bills and unplanned expenses, all while being incapable of working. The Fairfax personal injury lawyer team of Koonz McKenney Johnson & DePaolis LLP can help you obtain the compensation that you and your family are rightfully owed.
If you've reached this page in search of answers to your specific legal questions, contact our office today to schedule a free consultation.
Why You Need an Experienced Personal Injury Lawyer on Your Team
You need an experienced personal injury lawyer to ensure that you receive legitimate compensation for your suffering. Most personal injury claims are resolved in settlement negotiations with the insurance company of the party responsible for the injuries. Insurance companies tend to have teams of attorneys, whose goal is to deny or minimize your claim.
Having an experienced Fairfax personal injury lawyer advocating for you will signal to the insurer that you are serious and determined to prove liability. A personal injury lawyer will assess the full extent of your losses to determine how much your case is worth, will gather the evidence to prove it, will skillfully negotiate and will fight to ensure you receive the compensation you deserve, whether outside or in court if necessary.
How Do I Know if I Have a Strong Personal Injury Case?
A meeting with one of our attorneys can help you determine if you have the elements of a strong personal injury case in Fairfax. We have the personal injury practice area experience to effectively review your case and estimate its potential. In general, you need four main elements to have a personal injury claim.
Duty
Breach
Causation
Damages
You might have a strong claim to damages if the defendant owed you the duty to exercise reasonable care based on your relationship with the defendant and if the defendant in some way breached this duty. For the most part, only serious injury accidents are worth pursuing a personal injury lawsuit. Otherwise, an insurance claim could be enough to reimburse your damages.
What Type of Evidence Do I Need to Win a Personal Injury Case?
In a personal injury case in Virginia, the burden of proving someone's fault rests with the injured party, or the plaintiff. It is the plaintiff's attorney's job to establish the defendant's negligence and fault through a preponderance of evidence. This burden of proof asks for enough evidence to convince a judge or jury the defendant was more likely than not guilty of negligence. Winning a personal injury case takes presenting certain evidence of the defendant's fault for the injuries in question.
Eyewitness statements
Key witness testimonies
Expert opinions
Evidence from the scene of the accident
Photographic evidence
Police reports
Medical documents
One of the most important reasons to hire a personal injury attorney to represent your case is to access resources for an accident investigation. A lawyer can revisit the scene of your accident, communicate with hospitals and hire experts to help prove your case. Then, your attorney can build a clear and convincing argument supporting your side of the story to present before a judge or jury.

Who Can I Sue for my Fairfax Personal Injury?
The civil justice system states that an injured party will have the right to seek financial compensation from the party that negligently or purposefully caused the injuries. In Virginia, if someone else's caused your recent accident, you may be able to file a lawsuit against that person in pursuit of financial damages. Knowing who may be liable for your injuries could take an investigation of the accident.
A driver. If your injuries occurred in an auto accident, the driver of the other vehicle could be liable. Virginia has traditional tort insurance laws that hold the at-fault driver responsible for damages.
A manufacturing company. If a defective or dangerous consumer product caused your injuries, the manufacturer or distributor could owe you compensation under the rules of strict product liability.
The government. The City of Fairfax could be accountable if it contributed to your injuries through an act of negligence, such as an unsafe premises. If you tripped and fell in a public park, for example, the city may owe you for your losses.
You may be able to file a lawsuit against one or more parties in Fairfax. The party most responsible for causing the accident will be the one that must pay for your economic and noneconomic damages. One of our attorneys can investigate your accident and help you identify the correct defendant.
What Should I Do if I've Suffered a Personal Injury in Fairfax, VA?
In Virginia, you must act within two years from the date of your injury if you wish to file a personal injury claim. Missing your statute of limitations will most likely result in giving up any opportunity for compensation. If you have suffered a personal injury in Fairfax, contact our attorneys at Koonz McKenney Johnson & DePaolis LLP right away.
Prompt action could make an important difference in the outcome of your claim. We may be able to act before the loss or destruction of key evidence, such as tire tracks on the ground or an obstructed traffic sign. Let our lawyers handle the complex claims process for you.
Why Choose Our Fairfax Personal Injury Attorneys?
We have obtained substantial financial compensation for victims injured or killed by the negligent actions of others.
Our firm has successfully taken on large corporations or businesses and have recovered more than $1 billion in compensation for our clients and their families.
We treat all of our cases, regardless of their size with care, diligence, and dedication. We have success in resolving cases of all sizes, large and small.
Our personal injury lawyers have earned the respect of their peers, with many being accepted into leadership positions in local bar and trial associations or teaching courses in trial advocacy and personal injury law.
We are committed to helping our clients, whatever the cost. Which is why we will not collect a fee unless we win.
We are proud and active members of our community, striving to serve and protect our neighbors.
Personal Injury Cases We Accept at our Fairfax Injury Office
We have a significant amount of experience recovering compensation in the following personal injury matters:
Distracted Driving Accidents
Fatal Auto Accidents
Burn Injuries
Fractures
Spinal Cord Injuries
Nursing Home Abuse
Bed Sores
Asbestos Related Illnesses
Contact Our Fairfax Personal Injury Firm Today
If you have been injured due to negligent or reckless conduct of another individual or company, you may have a personal injury claim for compensation. Speak with a highly qualified personal injury lawyer with the law firm of Koonz McKenney Johnson & DePaolis LLP today. We offer free and confidential case evaluations, with no obligations. Call (703) 498-2928 or fill out our online contact form.