By DC law, building owners and contractors must secure any ladders, scaffolds, corresponding equipment and other objects to prevent scaffold and ladder falls and causing construction accidents. Workers who are injured by equipment failure or involved in scaffold or ladder accidents have a right to sue contracting companies, building owners or any related agents at fault for not taking the necessary preventative measures to ensure their safety.
A qualified personal injury lawyer from the Koonz, McKenney, Johnson & DePaolis L.L.P. law firm can investigate the cause of your accident to determine if a party that should have provided a safe working environment failed to do so. Our firm has a number of significant case results we gained on behalf of injured workers, including a $2.2 million settlement for our client who suffered a spinal cord injury after a contractor failed to comply with regulations from the Occupational Safety and Health Administration (OSHA).
Common Causes of Scaffold & Ladder Falls in Washington, D.C.
When the owners or operators of construction equipment do not properly secure, maintain or use property, serious workplace accidents with even more serious injuries can occur. The source of these accidents may be related to the scaffolds or ladders failing or from workers or objects falling onto or from the scaffolds or ladders—but what causes scaffolding accidents to happen?
A number of factors may lead to scaffold or ladder construction accidents, such as:
Reckless behavior
Negligence
Greasy steps
Defective equipment
Equipment improperly installed or missing, like guard rails, base plates, and side brackets
Equipment maintained poorly
Failure of equipment support features
Some companies will seek to save money by cutting corners while installing scaffolding for workers to use on job sites. While the short-term benefits may temporarily benefit their wallets, companies that choose profits over people must pay when their negligence results in severe and fatal injuries, including:
Workers who drop from scaffolding or ladders oftentimes suffer life-altering injuries because of the sheer height of this equipment. Seeking recoveries from the parties at fault can allow injured workers to gain money for lost wages, past hospital expenses and future medical treatment.
What to Do After a Scaffoldin Accident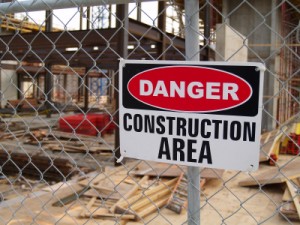 Immediately after any type of workplace accident, seek medical attention. Once you address your health concerns, you should then begin the process of documenting the accident. This information can prove useful at a later date when filing a lawsuit for compensation may become necessary.
If your accident involved a scaffold, you should determine whether the scaffold was installed properly, who erected the unit, whether there were defects in any of the components of the scaffold that caused it to fall and if proper safety features were installed onto the scaffold.
If your accident involved a ladder, you should determine whether the ladder was properly set up, whether it was level, had any defective parts and if a third party or subcontractor bumped/knocked over the ladder or caused damage to it in any way.
Even with the right documentation, your employer's insurance company may not cover all the expenses related to your scaffolding or ladder fall injury. This can create financial burdens for workers and their families to deal with on top of the already overwhelming physical devastation. For your best chance at gaining the most compensation after an on-the-job ladder fall injury, or if a family member is unable to continue working after they sustained a severe workplace injury, speak with a construction accident lawyer to learn what options may be available to you.
D.C. Scaffold and Ladder Falls Lawyer Near My Work for Construction Accident Claims
Contracting companies and building owners have a duty to take all precautions and to utilize the highest levels of safety for those who work and walk around scaffolds and ladders. For more than three decades, our personal injury attorneys have pursued many cases and secured millions of dollars in compensation for construction workers and their families when unsafe working conditions cause severe injuries or, sadly, death. Reach out to a construction accident attorney at our DC firm today for a free, no-obligation consultation to talk about your ability to recover compensation.