Birth injury occurs all too often in the U.S. and nearly half of them could be avoided if healthcare professionals met the standard of care required of them. If you believe your child was harmed during labor or delivery in D.C. or surrounding areas, you may be entitled to sue for compensation.
Contact our office today to speak to one of our highly knowledgeable and compassionate D.C. birth injury lawyers. One of our experienced attorneys will answer your legal questions over a free initial consultation and case evaluations, and advise you on your best legal options.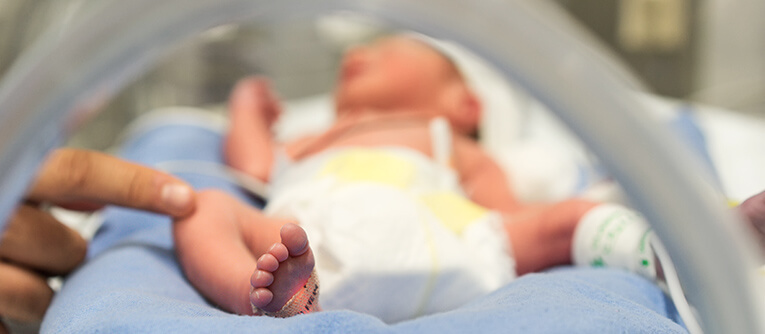 Why Choose Koonz McKenney Johnson & DePaolis LLP for D.C. Birth Injury Claims?
Your case will be given the attention it truly deserves and we will only accept legal fees once we win.
For more than 38 years, we have consistently achieved successful outcomes for our Washington, D.C. birth injury clients.
We have stood up to numerous major corporations and businesses and have recovered compensation totaling more than $1 billion.
Do You Need a D.C. Birth Injury Lawyer?
Birth injury claims typically involve the laws of medical malpractice. As a patient, the odds may be stacked against you in a lawsuit against a powerful health care corporation or physician. It is important to hire an attorney to help you with your D.C. birth injury case. A lawyer will make things more equal between you and a major insurance company, improving your chances of fair results. A DC wrongful death lawyer will not allow an insurance company to settle your claim for less than your child's injuries demand. You can work with your attorney on a legal strategy that works for you and your goals. A lawyer will take care of legal matters on your behalf while you focus on your family and healing.
Common Causes of Birth Injuries in D.C.
Birth injuries are almost always preventable. They happen when one or more parties breach their duties of care toward a patient or her child. Many different mistakes on the part of a health care provider or birthing center could lead to birth injuries that affect a child for life. The following actions are considered medical negligence and commonly result in birth injuries:
A lack of or improperly trained medical staff
Failure to diagnose and treat a maternal infection
Delayed or a failure to respond to fetal distress
Improper use of birthing instruments
Failure to plan for or perform a cesarean section swiftly
Inability to properly resuscitate a child after birth
Anything from an unsanitary premises to a careless physician could lead to a life-changing childhood injury. At Koonz McKenney Johnson & DePaolis LLP, we can investigate your birth injury case to determine who or what caused the injury in question. Then, we can help you craft a strong demand letter against the correct defendant in pursuit of damages.
Common Birth Injuries in D.C.
A birth injury in Washington, D.C., and around the nation, is defined as any damage or injury to an infant's body occurring before, during, or slightly after the child's birth. Damage to an infant can commonly cause the following birth injuries:
Brain-Related Injuries in Washington, D.C.
Injuries due to brain damage are typically caused by oxygen deprivation.
Hypoxic-Ischemic Encephalopathy A reduction in the supply of oxygen to the brain and other organs.
Cerebral Palsy: A disorder affecting movement, muscle tone, and motor skills.
Muscle-Related Injuries
Injuries causing limited movement or paralysis.
Brachial Plexus  Upper arm injury during delivery, causing weakness in possibly the shoulder, arm, and hand of the affected arm.
Erb's Palsy A form of brachial plexus, possibly causing a loss of feeling and weakness in the affected arm, and possibly even paralysis.  If a baby's neck is unnaturally stretched during delivery, this injury can occur.
Bells Palsy Causes paralysis or weakness on one side of the face. The source of the injury during birth is unknown, but thought of to possibly be due to a deprivation of oxygen or by the herpes virus.
Caput Succedaneum The soft tissues in a baby's scalp swell due to pressure, commonly caused by excessive force during vacuum extraction or misuse of the instrument.
Other Birth Injuries common in D.C.
Who Is Liable for a D.C. Birth Injury?
Identifying the liable party for your child's birth injury is one of the first steps toward achieving justice and financial compensation. After finding out your child has an injury from something that went wrong during pregnancy, labor or delivery, contact an attorney for assistance with the investigative process. A lawyer can review the situation and help you determine who should be legally responsible for the injuries and damages your family suffered. Naming the correct defendant is imperative.
The hospital or birthing center. The facility where the injury happened will be responsible in most cases. A hospital will be vicariously liable for the mistakes of its staff members, including hired physicians and nurses. It will also be liable for its own errors, such as hiring unfit employees or failing to properly maintain a safe premises.
The individual physician. A hospital might not be vicariously liable if the person that injured your child was not technically an employee of the establishment. Doctors and surgeons are often independent contractors, for example, not employees. This would make the individual responsible for your losses instead of the hospital.
A product manufacturer. The manufacturer of a medical device or the pharmaceutical company that makes a drug could be liable for a birth injury if it stemmed from a defective or dangerous product. Failing to warn patients of known risks or releasing dangerous products (knowingly or unknowingly) could lead to a product liability lawsuit.
The party legally responsible for your child's birth injury might not be the obvious choice. Hire an attorney to investigate your case for a detailed look at who or what contributed to the injury or illness in question. One or multiple parties could owe your family compensation for causing a birth injury in D.C. The lawyers at Koonz McKenney Johnson & DePaolis LLP have enough experience handling birth injury cases to know where to look for liability.
How to File a Birth Injury Claim in D.C.
The rules for filing a birth injury claim depend on where you live. The District of Columbia has unique medical malpractice laws that will affect how you file, as well as your legal rights as the parent of an injured child. Working with a lawyer from our law firm can help you navigate local laws in a way that will amplify your odds of success against a powerful health care provider. Hire a lawyer as your first step in filing a claim to make for an easier process.
Consult an attorney. Call (202) 659-5500 as soon as you discover a birth injury for a free consultation about what to do next. We can let you know if you have a claim, and if so, initiate the filing process on your behalf.
Assess your damages. Gather documents that prove your damages, such as medical records and receipts. Calculate how much your injury claim could be worth with help from an attorney.
Name the defendant. Determine who should be financially responsible for your damages based on the facts of your case and the rules of medical liability.
File the demand letter. Draft a letter that demands a fair settlement from the defendant for your damages. Then, file it with the civil court in the county where the birth injury occurred.
Meet your deadline. The statute of limitations on medical malpractice claims in D.C. is three years. Claimants have three years from the date of the incident or the date they reasonably should have discovered the birth injury to file. Child victims under 18, however, have until their 21st birthdays to file.
Our attorneys can guide you through all the steps it takes to file a birth injury lawsuit in D.C. Then, we can help you with settlement negotiations. If the defendant's insurance company refutes your claim, we can help you go to court to prove liability instead. Our attorneys have years of trial experience and have achieved multimillion-dollar verdicts from judges and juries in D.C. in the past. Contact us first for help with the rest of the steps in filing a birth injury claim.
Compensation Available for D.C. Birth Injury Victims
A successful birth injury claim could enable your family to move forward with financial stability, peace of mind and confidence. You could receive the money you need to pay for many economic and non-economic losses, from medical costs to your child's pain and suffering. As your legal advocates, our lawyers will do what is necessary to secure top compensation for your damages.
The victim's past and future medical care. Reimbursements for all the money your family already has and will have to spend on treatments, therapies, rehabilitation, medications and medical devices for your injured child.
Pain and suffering. The physical pain, discomfort, emotional suffering, anguish and trauma your child and your family suffered because of the medical malpractice.
Lost quality of life. Any diminishes in your child's well-being, enjoyment of life or quality of life due to a medical condition, disabilities or disfigurement from a birth injury.
Legal expenses. The money your family has to spend on hiring an attorney, investigators or experts to handle your birth injury claim. This can include travel expenses and other out-of-pocket costs.
Home or vehicle modifications. If the birth injury gave your child a permanent disability, such as cerebral palsy, you could demand the costs of disability accommodations.
Lost income earning capacity. If your child will live with a disability for the rest of his or her life, you could request payment for lost future capacity to earn a living.
Punitive damages. A judge in Washington, D.C. may award your family punitive damages if the doctor or hospital was grossly negligent in causing your child's injuries, or if the defendant is guilty of intent to harm, malice or fraud.
Although we cannot guarantee results, we can guarantee our undivided attention and devotion to your birth injury case. Our attorneys will work with you one on one to identify your goals for the case and try to achieve them. We will use proven negotiation tactics with insurance companies or take your claim to trial, if necessary, for a positive outcome. Find out what your birth injury case might be worth in D.C. during a free consultation with our lawyers today.
When Do You Need a D.C. Birth Injury Lawyer?
Hospitals have teams of attorneys that will attempt to deny or invalidate your claim. An experienced birth injury lawyer will collect evidence, documents, a witness and expert list, and then go through every detail of how the birth injury occurred in order to determine fault and construct a strong case. A lawyer will also conduct settlement negotiations on your behalf, but if one cannot be reached then they will represent you in civil court.
Contact Our Firm Today | Free Consultations For All DC Birth Injury Claims
The D.C. birth injury lawyers of Koonz McKenney Johnson & DePaolis LLP have a significant amount of experience battling against hospitals and insurance companies on behalf of birth injury victims' families. Contact us today so we may evaluate your case and advise you of your legal rights. We offer free consultations.
Koonz McKenney Johnson & Depaolis serve residents of Washington DC including those living in Capitol Hill, Columbia Heights, Downtown District of Columbia, Foggy Bottom, Georgetown, and Mount Vernon.