Our Washington, D.C., Maryland, And Virginia Injury Lawyers Are In The News!
We're Sponsoring the 2016 Food From the Bar Campaign Kickoff
Koonz, McKenney, Johnson & DePaolis is proud to sponsor the Kickoff to the 2016 Food from the Bar Campaign.  The 3rd Annual  Legal "Deboccery" event will take place on May 5, 2016 at Pinstripes in Georgetown.  The event benefits the Capital Area Food Bank.  Associate Kelly Fisher has organized the event for the past three years on behalf of the Women's Bar Association and the Food f … Read more
Attorney William Lightfoot to Teach Deposition Techniques and Strategies
Koonz McKenney Johnson & DePaolis LLP managing partner William P. Lightfoot will teach advanced deposition techniques and strategies to lawyers attending a four-day program in New Orleans January 15-18.  The program enhances the performance of even the most experienced trial lawyer. Lightfoot will lecture about methods for "Establishing Standards of Care and Conduct with Defens … Read more
Making a Difference
New Service Award Reflects a Unique Dedication to Our Clients and Our City A single mom, working 10 hour days, barely making ends meet, and now…injured at work. In an instant, everything from getting to the doctor to keeping track of expenses to navigating a sea of forms has overwhelmed her life. Koonz McKenney Johnson & DePaolis LLP understands that legal assistance only scra … Read more
Koonz McKenney Has D.C.'s "Top Lawyers", Says Washingtonian
For more than 35 years, Koonz McKenney Johnson & DePaolis LLP has successfully fought for clients in personal injury cases. No other personal injury firm has more attorneys selected by Washingtonian as its "Top Lawyers." "We demand full and fair compensation for all of our clients. Every insurance company knows that we are prepared to take any case to trial if we don't feel our c … Read more
Joseph Hayes Koonz, Jr. (1934 – 2013)
Washington, D.C. attorney, Joseph Hayes Koonz, Jr., died peacefully on Saturday, September 28, 2013. He was born on November 27, 1934, in Cornwall, NY. He is one of six siblings, Annette Leveque, Joan Gazzaniga, John Koonz, Virginia Koonz and predeceased by his sister Mary Ellen Koonz.
Mr. Koonz graduated with honors from Saint Anselm College, Manchester, New Hampshire, in 1956, and from Georgetown University Law Center in 1959, followed by a tour of duty in the U.S. Marine Corps. He was admitted to the Bar of the District of Columbia in 1960. He practiced personal-injury and workers'-compensation law, specializing in the representation of injured workers.
Mr. Koonz founded the law firm of Koonz, McKenney, & Johnson in 1979. Under his leadership, the firm became one of the largest and most successful personal injury firms in the D.C. metropolitan area. The firm is now known as Koonz McKenney Johnson & DePaolis LLP. Read More
Chapman Selected To Executive Committee Of The Council For Court Excellence
Partner Paulette Chapman has been elected to serve on the Executive Committee of the Council for Court Excellence (CCE), a nonprofit organization that works to improve the administration of justice in the local and federal courts in the Washington, D.C. area. "From its initiatives and programs including modernizing the trial jury and grand jury systems, reform of the probate laws and procedures, improvement in court handling of child neglect and abuse cases, and the expansion of crime victim rights, the Council for Court Excellence is truly an innovative voice and moving force affecting our justice system in D.C." states Ms. Chapman.
Ms. Chapman recently appeared on the CCE panel, "Changing Perceptions of Jury Service" along with the former Chief Judge of the United States District Court for the District of Columbia Royce Lamberth and Professor Andrew Ferguson, UDC David A. Clarke School of Law. The panel featured a lively discussion about the critical role D.C. residents play in jury service and how to expand the outreach for jurors and improve the perception of jury service. The discussion is on CCE's YouTube page.
For more about CCE visit www.courtexcellence.org.
Paulette Chapman Speaks At The Amalgamated Transit Union Local 689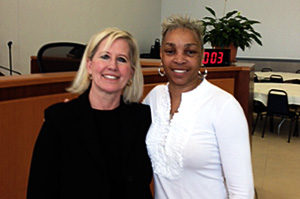 In March, Partner Paulette Chapman spoke to over 250 members of Amalgamated Transit Union Local 689 about their rights under Workers Compensation laws in D.C., Virginia, and Maryland. She stressed that while the three states are similar in the types of wage and medical benefits, they differ in their deadlines, maximum compensation wage rates, and other requirements. "Our job is to protect workers when they are most vulnerable – hurt, injured, and not able to work – and to ensure they get the workers compensation benefits their hard work has earned them so that they can get better and rejoin the work force. We have a long-standing commitment to the members of Local 689 who get us all where we need to go by bus and train." Metro is the second-busiest rapid transit system in the United States in number of passenger trips with over 798,000 trips per weekday. Koonz, McKenney is proud to represent Local 689. For more information about Local 689 www.atulocal689.org
Paulette Chapman Voted Trial Lawyer Of The Year 2013
Congratulations to our partner Paulette E. Chapman who has been voted Trial Lawyer of the Year 2013 by the D.C. Trial Lawyers Association. Her professional colleagues recognize her for outstanding commitment to her clients, persistence in the pursuit of justice, and unselfish devotion to her community. She is the fourth member of the firm to be voted Trial Lawyer of the Year during the firm's thirty three years. The other recipients are Joseph Koonz, Marc Fiedler, and William P. Lightfoot.
$2.2 Million Settlement On Behalf Of Injured Worker
The litigation team of William Lightfoot, Paulette Chapman and Kelly Fisher settled a construction case for $2.2 million on behalf of an injured worker. A contractor allegedly violated an OSHA safety regulation. Mr. Lightfoot had lead responsibility for presenting the evidence of a safety violation. Ms. Chapman presented the proof of the spinal injury that prevented the worker from resuming work in the building trades. Ms. Fisher researched construction laws and wrote motions on the laws of evidence.
Paulette Chapman Has Been Elected To The Board Of Directors Of The District Of Columbia Bar Foundation.
The D.C. Bar Foundation's mission is to fund, support, and improve legal representation of the poor, vulnerable, and otherwise disadvantaged in the District of Columbia. It provides grants to a wide array of legal services groups that include the Legal Aid Society, Bread for the City, Children's Law Center and the D.C. Employment Justice Center. "It is an honor to serve on this board. I look forward to furthering the mission of providing grant money to the many excellent groups that protect those in our city most in need." www.dcbarfoundation.org
William Lightfoot Recovers $1.8 Million In Construction Case
Partner William P. Lightfoot recently recovered 1.8 million dollars for a worker who fell through a hole in a roof while on a construction site. Though the general contractor covered the hole, the cover was not secured and was not properly marked. OSHA found that the contractor did not maintain a safe place to work and violated safety regulations. In addition to relying on the OSHA investigation, Mr. Lightfoot used medical illustrations to demonstrate the full extent of the worker's injuries.
Paulette Chapman Recognized By The Trial Lawyers Association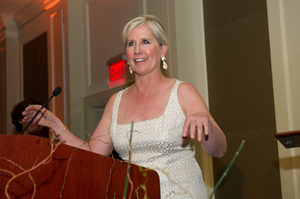 Paulette Chapman received the Women's Caucus Award from the Trial Lawyers Association of Metropolitan Washington, D.C. This is the is the preeminent organization of lawyers in and around Washington, D.C. who represent plaintiffs in personal-injury, wrongful-death, civil-rights actions, and workers'-compensation claims. "As a former President of the Women's Bar Association of the District of Columbia and as a trial lawyer, this honor is near and dear to me. It underscores the energy and talent women lawyers bring to bear for their clients in our courtrooms. Women trial lawyers are committed to standing up for safe products and quality medical services for our families and children. " Ms. Chapman has served on the D.C. Trial Lawyers Board of Governors for many years and currently is a member of the Education Committee.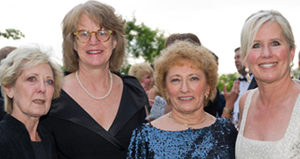 Liability Fight Continues In $30M Wrongful Death Case
Nearly eight years after a steam explosion in downtown Washington killed two men, several parties who were sued in connection with the blast continue to point the finger at one another – and at one of the victims – over who was to blame. Joseph Hudert and Francis Stotmeister were employees of companies contracted through the U.S. General Services Administration to work on steam and water systems under 17th Street Northwest, which connected to the New Executive Office Building. Both were killed on April 23, 2004, after a steam pipe ruptured. Hudert and Stotmeister's families filed separate wrongful death lawsuits in U.S. District Court for the District of Columbia that involved the federal government, the District of Columbia Water and Sewer Authority and a host of private contractors and subcontractors in connection with the incident. Until recently, the defendants focused much of their efforts on pinning any future liability on one another. Hudert's family, which had sued for more than $20 million, settled with the defendants for undisclosed amounts in November, but the Stotmeister family's $30 million case has pressed on. The parties met this morning before U.S. District Senior Judge Thomas Hogan to present arguments on summary judgment and other pending motions. An attorney for the Stotmeister family, Washington, D.C. injury attorney William Lightfoot of Washington's Koonz, McKenney, Johnson & DePaolis LLC., told Hogan that his client had reached settlement agreements with the federal government, D.C. Water and three of the private defendants – Jessup, Md.-based Cherry Hill Construction Inc., Rockville, Md.-based Grunley-Walsh Joint Venture LLC, and McLean, Va.-based Alion Science and Technology Group. Motions for summary judgment filed by two other private companies – Gaithersburg, Md.-based M&M Welding & Fabricators Inc. and Philadelphia-based Day & Zimmerman Services – are still pending. M&M and Day & Zimmerman are also pursuing motions to recover damages they may have to pay from the federal government. Thomas Ryan of McCarthy Wilson in Rockville, an attorney for M&M, argued for summary judgment on behalf of his client and Day & Zimmerman. He said there was clear evidence that Stotmeister, a construction superintendant for Grunley-Walsh, failed to follow procedures for operating the steam pipe valves on the day of the explosion. Ryan said Stotmeister's supervisor had reason to assume Stotmeister was familiar enough with the system to know proper protocol; he was known as "the steam guy." Koonz partner and Washington, D.C. injury lawyer Marc Fiedler replied that the evidence showed that any actions Stotmeister took to operate the steam pipe valves were at the behest of his supervisor. Fiedler said summary judgment would be inappropriate because several important facts were still in dispute. Theodore Segletes III of Marks, O'Neill, O'Brien & Courtney in Wilmington, Del., argued on behalf of Day & Zimmerman, which had a contract with the federal government to inspect the pipes at issue. Day & Zimmerman moved to hold the federal government responsible for any damages it may owe, along with attorney fees and other costs associated with defending the case. Assistant U.S. Attorney Jeremy Simon argued today that the government's contract with Day & Zimmerman indemnified the government against such liability, and that the government couldn't act as the company's third-party insurance provider. Simon also said that the government wasn't responsible for any problems with the pipes, because it was Day & Zimmerman's responsibility to inspect and report on their condition. M&M has also moved to have the government share in any liability. Hogan urged the parties today to continue any settlement talks, but said he planned to rule on the remaining motions by tomorrow.
A $50 Million Puzzle – How Best To Distribute Liability For Steam Explosion Fatalities?
A six-year round of musical chairs over liability for a fatal steam explosion in downtown Washington is set to wind down this summer. With $50 million in potential damages at stake, the federal government and contractors are maneuvering to make sure they aren't the last ones standing. Read the Article
Pedestrian Struck By Garbage Truck Suffers Brain Injury

On August 27, 2010, our client G.F. was struck by a garbage truck owned and operated by kmG Hauling of Virginia. This is the same company whose driver struck and killed Alice Swanson, a bicyclist, near Dupont Circle in 2008. G.F. was proceeding to the Safeway grocery store near the intersection of 4th and M Streets, S.W. when she was struck, causing her to hit her head on the pavement. Unfortunately the severity of the truck accident left her with a traumatic brain injury requiring immediate surgery at the George Washington University Hospital and leaving her with severe cognitive impairments and no memory of the event. This presented a unique challenge for partner and Washington, D.C. injury attorney Roger Johnson because there were no eyewitnesses to the accident nor were there any building cameras or other video sources available to view what occurred. The driver reported to the police that G.F. was crossing against the "don't walk" sign, that he had a green arrow to turn right, and that she was outside of the crosswalk. After filing a lawsuit, Mr. Johnson obtained written answers to interrogatories and documents where the driver took the same position as to the complete fault of our client, G.F. However, in a five hour videotaped deposition held this summer (attended by numerous representatives for kmG Hauling) the driver was confronted with his own telephone records which had been obtained from his cell phone company. These records showed that the driver was almost certainly on his cell phone at the time of the accident, in violation of D.C. cell phone laws. Apparently not realizing Mr. Johnson had sixty days of his cell phone records, the driver denied that he had talked to any person that had called in to his cell phone immediately before the accident. He also denied any knowledge of the identity of the person whose number showed up in the records. However, that number showed up in his records several times before the date of accident and several times after the date of accident, convincing everyone at the deposition that the driver was almost certainly not being truthful. Additionally, the driver acknowledged in his deposition that he had looked in his rearview mirror while making the turn to avoid clipping bicyclists at the curb and that he did not see G.F. until her head was immediately in front of the grill of the truck. Within 40 days of that deposition, the case was settled. At the request of the defendant, the settlement amount is confidential. Mr. Johnson handles personal injury cases of all types, large and small. In November 2011 he was once again named one of Washingtonian Magazine's Best Lawyers for personal injury law.
Functioning AEDs Save Lives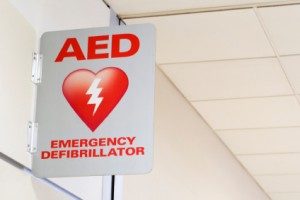 Partner and Washington, D.C. injury lawyer Paulette Chapman, along with and Washington, D.C. injury attorney Kelly Fisher and Maryland injury lawyer Justin Beall recently settled a premises liability lawsuit involving the failure of a large convention hotel to have an AED (Automated External Defibrillator) available for use in cases of sudden cardiac collapse due to disruption of the rhythm of the heart. An AED is a portable electronic device that can audibly prompt the user and deliver an electric shock that will give the heart a chance to spontaneously re-establish an effective rhythm. Attorneys Chapman, Fisher, and Beall were able to show that had a working AED been provided to a hotel guest within minutes after his collapse, his heart rate would have been restored and he then would have survived. A study published in 2000, titled Outcomes of Rabid Defibrillation by Security Officers after Cardiac Arrest in Casinos, found that if an AED is applied within three minutes, a person's chance of survival is 74 percent. This study is cited extensively by the American Heart Association. At five minutes, the survival rate is over 50 percent if a working AED is applied. For more information about cases involving AEDs and the need for defibrillators in areas of public access, please contact Paulette Chapman at pchapman@koonz.com.
Julie Heiden Named Professional Of The Year In Personal Injury Law
For 18 years, Julie H. Heiden has provided stellar legal services throughout Virginia and Washington, D.C. FAIRFAX, VA, March 29, 2011, Virginia injury attorney Julie Harry Heiden, partner at Koonz McKenney Johnson & DePaolis LLP, has been named a Cambridge Who's Who Professional of the Year in Personal Injury Law. While inclusion in the Cambridge Who's Who Registry is an honor, only a small selection of members in each discipline are chosen for this distinction. These special honorees are distinguished based on their professional accomplishments, academic achievements, leadership abilities, years of service, and the credentials they have provided in association with their Cambridge Who's Who membership. By relying on a blend of her faith and support from her co-workers and team, Ms. Heiden has expertly litigated personal injury cases throughout the Fairfax region for 18 years. It is her willingness to continue expanding her knowledge of the field that has made her stand apart from other attorneys in her field. She specializes in representing individuals with personal injury and workers compensation cases. While managing numerous trial cases at once, she prioritizes her clients' needs, physically and financially. Initially inspired by her childhood soccer coach, who was a lawyer by profession, Ms. Heiden proves her passion for helping others attain justice. Ms. Heiden earned a JD from George Mason University School of Law in 1992, after graduating with a bachelor's degree, magna cum laude, from Shepherd College in 1988 and attending the master's program in public administration at Florida State University. At George Mason University, she was editor-in-chief of the Civil Rights Law Journal, which contributes informative commentary on a variety of civil-rights-related issues to the legal community. Upon receiving a JD, Ms. Heiden was admitted to the Virginia Bar (1992) and the District of Columbia Bar (1994). Currently, she is admitted to practice before the Fourth Circuit Court of Appeals, Eastern and Western Districts of Virginia, Superior Court for the District of Columbia, and all courts in the Commonwealth of Virginia. To remain abreast of industry changes, she is affiliated with the Fairfax Bar Association and the American Bar Association.
About Cambridge Who's Who®
With over 400,000 members representing every major industry, Cambridge Who's Who is a powerful networking resource that enables professionals to outshine their competition, in part through effective branding and marketing. Cambridge Who's Who employs similar public relations techniques to those utilized by Fortune 500 companies and makes them cost-effective for members who seek to take advantage of its career enhancement and business advancement services. Cambridge is pleased to welcome its new Executive Director of Global Branding and Networking, Donald Trump Jr., who is eager to share his extensive experience in this arena with members. Cambridge Who's Who membership provides individuals with a valuable third party endorsement of their accomplishments and gives them the tools needed to brand themselves and their businesses effectively. In addition to publishing biographies in print and electronic form, it offers an online networking platform where members can establish new professional relationships. For more information, please visit http://www.cambridgeregistry.com.
American Association For Justice (AAJ)

Partner and Washington, D.C. injury lawyer Paulette Chapman participated in the American Association for Justice (AAJ) Women's Lobbying Day on May 26th, 2011. Chapman and women trial lawyers from across the country gathered to lobby Congress against the House HR 5 Medical Malpractice Bill. Chapman said that passage of the bill, "would strip people of their right to access our courts and impose harsh restrictions on valid claims of medical negligence."
BAD GAS: THE STORY OF THE FORMER CHEVRON AT 3011 MLK AVE, SE
Christine MacDonald reveals how a long history of crime, conspiracy, and neglect has forced this former Chevron gas station to make changes, hopefully for the better.
FIEDLER GIVES SEMINAR PRESENTATION ON APPELLATE PRACTICE
Koonz McKenney partner and Washington, D.C. injury lawyer Marc Fiedler gave a presentation with Judge Joseph F. Murphy, Jr. of the Maryland Court of Appeals on the topic, Trial Lawyers in Appellate Courts, on January 22, 2010 at the Workhorse Seminar 2010. The full-day seminar, sponsored jointly by the Maryland Association for Justice and the Trial Lawyers Association of Metropolitan Washington, D.C., brought together more than 75 trial lawyers from Maryland and the District of Columbia to learn how to improve their law practice from experts such as Mr. Fiedler. The presentation by Mr. Fiedler and Judge Murphy, supported by a detailed written handout that they prepared, focused on specific ways for trial lawyers to become more effective appellate advocates. Among the topics on which they touched were framing the appellate issues cogently, developing winning strategies, writing persuasive briefs, and delivering powerful oral arguments. The presentation was well received by the attendees. Mr. Fiedler is a specialist and well-recognized expert in handling appeals and dispositive motions. A graduate of Harvard College and Harvard Law School, he served as a law clerk for two appellate judges before joining Koonz McKenney 25 years ago. The Best Lawyers in America, Super Lawyers and Washingtonian Magazine have all recognized Mr. Fiedler as a leading practitioner of personal-injury litigation and appellate law.
has selected Virginia injury attorney Peter DePaolis and Washington, D.C. injury lawyers Roger Johnson, William Lightfoot and Paulette Chapman for inclusion on their list of Best Lawyers for 2009. Staff writer Marisa M. Kashino spent six weeks ferreting out Washington's top lawyers. She relied heavily on peer recommendations, asking attorneys who was setting the standard in his or her field. She also interviewed clients and analyzed high-profiles case. Says Kashino: "The people attracted to the legal profession in this city are some of the nation's smartest and most powerful. Learning about them and hearing their stories never gets old." Kashino grew up near Seattle and studied journalism and political science at the University of Washington. She moved here for a job at Legal Times, where she covered law firms and government lawyers. She joined The Washingtonian in September.
JULIE HARRY HEIDEN HONORED FOR EXCELLENCE IN LEGAL SERVICES
Julie Harry Heiden, AV Rated by Martindale-Hubbell, Has 17 Years of Experience in Personal Injury Law FAIRFAX, VA, November 18, 2009 /Cambridge Who's Who/ –Virginia injury attorney Julie Harry Heiden, Partner of Koonz McKenney Johnson & DePaolis LLP, has been recognized by Cambridge Who's Who for demonstrating dedication, leadership and excellence in legal services. A 17-year veteran of the legal profession, Ms. Heiden is respected for her mastery of personal injury law. She has devoted most of her career to the law firm of Koonz McKenney Johnson & DePaolis LLP. As a partner, she represents over 400 individuals in personal injury and workers compensation cases, and oversees all aspects of being a trial attorney. Ms. Heiden ventured into law because she was inspired by her soccer coach in school, who was also a lawyer. She attributes her success to her devotion to her profession and the support that she receives from her colleagues and her team. Ms. Heiden earned her JD in 1992 from George Mason University School of Law. Her professional affiliations include The Virginia Bar Association, The District of Columbia Bar, the Fairfax Bar Association, and the American Bar Association. She is AV Rated by Martindale-Hubbell. Read the original article on Cambridge Who's Who.
$1 MILLION GIVEN TO FAMILY OF FATALLY BEATEN PATIENT
D.C. wanted to get incident at psychiatric hospital 'over with' By Keith L. Alexander Washington Post Staff Writer The District paid $1 million Monday to the family of a former patient of St. Elizabeths Hospital, the city's public psychiatric facility, who was stomped to death by another patient. City officials made the payment 10 months after a D.C. federal court jury found the city liable in the 2005 death of Alan Martin. Martin, 56, a former Washington physician who had a diagnosis of bipolar disorder, was admitted to St. Elizabeths just four days before he was housed with another inmate, William E. Dunbar, 29, who investigators said later stomped Martin. Martin was found April 4, 2004, with a cracked skull and a broken neck. He lapsed into a coma and died about a year later. Dunbar was charged in the killing. St. Elizabeths officials were criticized for placing Martin, a nonviolent patient, in a unit with Dunbar, who was admitted for having homicidal thoughts and threatening family members. In January, a jury found the District negligent in Martin's death. The District appealed the verdict but later withdrew the appeal. Martin's sister, Theresa Roberson, said in a statement through Washington, D.C. injury attorney William Lightfoot, that the lawsuit was about forcing the District to take responsibility. "I knew the city would not accept responsibility, so I filed the lawsuit to hold the city accountable," Roberson said. D.C. Attorney General Peter Nickles said he authorized the District to make the payment to get the case "behind us." "The judgment had been entered against us, and interest was accruing, so I felt it made sense just to get it over with," he said. Just weeks after Martin's death, another patient, Willie Fraley, 76, was fatally beaten by another patient. Two years earlier, hospital staff had been criticized for not properly supervising Frank Harris Jr., who used his hands to gouge out his own eyes in March 2003. Most recently, in January 2007, Mark Harris, 39, went into cardiopulmonary arrest and died after a hospital employee tried to restrain him when he became disruptive and violent. Critics of the hospital cited the incidents as the most egregious signs that the hospital was overcrowded and understaffed. The settlement comes two years after the District agreed to implement a long list of improvements as part of a settlement with the Justice Department, which had threatened to sue over widespread deficiencies at the hospital. Nickles said that since the agreement, the District has "made progress" in improving the hospital, partly by reducing the number of patients and shifting patients to community-based treatment facilities. The hospital also renovated and subsidized apartment units for patients who have shown they can live on their own.
FAVORABLE VERDICT RECEIVED FOR FAMILY WHO WAS STRUCK BY A DUMP TRUCK ON THE BELTWAY
Yesterday, the trial team won a verdict in Prince George's Court for three people injured in a motor vehicle collision. The defendants offered $500, $40,000 and $43,000 for the individual plaintiffs. Jurors heard a stellar opening by Washington, D.C. injury lawyer Kelly Fisher, a compelling direct exam of the plaintiffs by Washington, D.C. injury attorney Paulette Chapman, as well as Paulette's withering cross of the doctor hired by the defendant. Powerful persuasion convinced the jury to return a verdict of $2,800, $150,000 and $133,000 for the plaintiffs. This is the third jury trial that was won by the team of Chapman and Fisher in 2009. Their earlier verdicts were for $1,000,000, and $684,577. They have obtained the largest jury verdict this year in D.C. Superior Court for a motor vehicle crash. We are proud and thankful of the important work done on behalf of our clients.
WILL CRITICAL REVIEW KEEP JUDGE FROM D.C. CIRCUIT SLOT?
Jeff Jeffrey, The National Law Journal D.C. Court of Appeals Judge Vanessa Ruiz, who has been aggressively pushed by a number of well-connected Democratic lawyers for promotion to the U.S. Court of Appeals for the D.C. Circuit, is being taken to task for having an excessive backlog of undecided cases. As part of a mandatory review before Ruiz could be reappointed to another 15-year term, the seven-member D.C. Commission on Judicial Disabilities and Tenure wrote that her backlog was "the highest by far" of any appellate judge at the court. In the District, judges on the local bench — like federal judges — are nominated by the president and confirmed by the Senate. Unlike federal judges, they must be reappointed after serving 15 years. Despite giving Ruiz a "well qualified" rating, which automatically ensures her reappointment, the commission pulled few punches in the evaluation it sent to President Barack Obama. "The Commission believes that this problem is not only about the pace of opinion production, but also about a less than fully adequate appreciation on the part of Judge Ruiz as to how her backlog adversely affects the litigants, the court, and her colleagues," the Aug. 10 evaluation said. One commissioner, Jones Day partner Noel Francisco, a former Bush U.S. Department of Justice official, took the unusual step of filing a dissent which recommended that Ruiz receive merely a "qualified" rating because of the backlog. A qualified rating means the president must either renominate the judge and subject her to Senate scrutiny again or pick someone else. Commission members are appointed by the president, the D.C. mayor, the D.C. Council, the chief judge of the U.S. District Court for the District of Columbia and the D.C. bar. Both the mayor and the bar get two picks each. Francisco was appointed to the commission by Bush. Ruiz, who declined to comment, submitted a letter to the commission on Aug. 13 saying that its criticisms about her backlog were based on potentially misleading statistics provided by Chief Judge Eric Washington. "The chief judge submitted averages for active judges at intervals since 2006, as well as the actual number of my pending cases during that period. Without information on where on the spectrum other judges stand in relation to the average, one cannot infer how I stand in relation to any one of them," Ruiz said in her letter, which she asked be forwarded to the White House. Francisco said the letter would not change his vote. "My decision is based on Judge Ruiz's significant and longstanding backlog, which her letter does not dispute," he said. Ruiz has had a number of heavy hitters pushing for her to be named to a higher court. Supporters include lawyers at Jenner & Block and Wilmer Cutler Pickering Hale and Dorr, who have lines into the upper echelon of the Justice Department. In March, the Hispanic Bar Association of D.C. announced its endorsement of Ruiz for a circuit slot and sent letters of support to Attorney General Eric Holder Jr. and White House Counsel Gregory Craig. The question now is whether the commission's report and Francisco's dissent will torpedo her chances for the federal bench. "Case management is not an unsolvable problem, but it is a significant issue and one that will be asked about," said Scott Coffina, a partner at Montgomery, McCracken, Walker & Rhoads who, as associate counsel to President George W. Bush, worked on judicial nominations. A former judge-picking adviser to the Clinton administration agrees. "For appellate court judges, poor case management is not good because they sit in panels. If someone isn't getting their work done, it affects the litigants, but it also affects the other judges on that panel," said the former adviser, who spoke on condition of anonymity. "You can be an intellectual giant, an Oliver Wendell Holmes, but if you're not getting the work done, it's an issue." Jamie Gorelick, a partner at Wilmer who served as deputy attorney general in the Clinton administration, said the backlog may not keep Ruiz from the federal bench. "Case management would be something that would be discussed, but in terms of priority it's going to be farther down the list," said Gorelick, who added that she knows Ruiz and thinks highly of her. "What is more important to the president is to find someone with an impressive intellect who has a judicial philosophy in sync with his own." Other supporters point to the positives mentioned in the commission's report, including her "engaged" questioning and her "significant role in improving the administration of justice." Ruiz, in her letter, acknowledged having a backlog that is "bigger than I feel comfortable with," but she said it was created by a "perfect storm" in 2006. That year, she became president of the National Association of Women Judges at the same time that the court was already overburdened as a result of vacancies. Ruiz's community involvement is well known. In recent years, she has held leadership positions inside and outside the courthouse. Her involvement in community activities prompted the commission to say in its evaluation that in order to address her backlog, Ruiz may "require a temporary reduction in these activities." Unlike the federal courts, the D.C. Court of Appeals does not annually make public its backlog statistics for individual judges. Washington would not provide Ruiz's caseload statistics to The National Law Journal. The D.C. Court of Appeals has long been criticized for its backlog. According to the most recent court statistics, the average time from argument to decision was 135 days. But some cases take much longer. Last month, both Ruiz and Washington issued opinions that had been argued more than two years ago. Commission chairman William Lightfoot, managing partner of D.C.-based Koonz McKenney Johnson & DePaolis LLP, said while the confusion over the court's statistics may warrant a clarification, the commission plans to closely monitor Ruiz's progress in reducing her backlog and will meet with her in December for an update. "We'd like to see her backlog cleared. That's the goal," Lightfoot said.
WASHINGTONIAN MAGAZINE SELECTS FOUR KMJDL LAWYERS AMONG D.C.'S BEST PERSONAL INJURY LAWYERS.
"You want to sue the fire department that failed to rescue you, the lawyer who blew your case, the doctor who botched your medical care, the blogger who defamed you. It's time to call a personal-injury attorney. Here are Washington's best-most honest and effective-lawyers who sue: Paulette E. Chapman, Peter C. DePaolis Roger C. Johnson, and William P. Lightfoot." Source: Washingtonian Magazine
CONGRATULATIONS!
Congratulations to Washington, D.C. injury attorney Joseph Koonz, Roger Johnson, Peter DePaolis William Lightfoot, Marc Fiedler, and Paulette Chapman for being selected for the 2009 Washington, D.C. Super Lawyers Magazine. Super Lawyers magazine names attorneys in each state who received the highest point totals, as chosen by their peers and through the independent research of Law & Politics. http://www.superlawyers.com
KOONZ MCKENNEY APPELLATE RULING INFORMATION
PROVIDED BY A WASHINGTON, D.C., MARYLAND, AND VIRGINIA INJURY LAWYER
Koonz McKenney Wins Appellate Ruling Upholding Verdict for Injured Motorist Lawyers with Koonz McKenney Johnson & DePaolis LLP recently achieved a favorable decision for a client who had been injured in a WMATA accident involving a Metrobus. The D.C. Court of Appeals affirmed a judgment on a jury verdict for the client, Nathan Brown, and against the Washington Metropolitan Area Transit Authority. The case arose from a car accident in which a Metrobus suddenly and without warning merged into the lane in which Mr. Brown was driving his van. To avoid colliding with the bus, Mr. Brown steered his van toward the curb and crashed into a lamppost. He sustained significant neurological injuries. On behalf of Mr. Brown, Washington, D.C. injury attorneys William P. Lightfoot and Kelly Fisher sued the Washington Metropolitan Area Transit Authority (WMATA) in the Superior Court of the District of Columbia. They alleged that the negligence of the Metrobus operator caused the crash that resulted in Mr. Brown's injuries, and they sought an award of money damages to compensate him. The case proceeded to trial before Superior Court Judge Geoffrey M. Alprin. The jury found WMATA liable and awarded Mr. Brown damages of $287,500. WMATA then appealed the judgment to the D.C. Court of Appeals. WMATA argued that the trial judge committed error in three evidentiary rulings. Washington, D.C. injury lawyer Marc Fiedler countered that the trial judge (1) properly allowed two eyewitnesses to present lay-opinion testimony that Mr. Brown "did the best thing" by swerving away from the bus and into the lamppost; (2) properly admitted into evidence Mr. Brown's medical bills without direct testimony from a doctor verifying their reasonableness; and (3) properly allowed Mr. Brown to testify about the permanence of his injuries where his treating physician also testified they are permanent. The appellate court rejected WMATA's arguments and agreed with Mr. Fiedler that the trial judge committed no reversible error. The court therefore affirmed the judgment in favor of Mr. Brown. With interest, the damages award now exceeds $300,000.
THOMAS MCWEENY SUCCESSFULLY LITIGATES CLAIM ON BEHALF OF CATASTROPHICALLY INJURED WORKER AGAINST AN UNINSURED EMPLOYER
On July 21, 2009 the Virginia Workers Compensation Commission upheld the rights of an injured worker whose arm was dragged into a PTO shaft of a post-hole digger after a three hour evidentiary hearing. On February 11, 2008, a string from the worker's jacket was blown into a post-hole digger causing his arm to be pulled into the augur. The worker was diagnosed with right rib fractures, a complete tear of the right supraspinatus, infraspinatus and subscapularis tendons, a right biceps tendon dislocation, a right superior labrum tear, and severe nerve damage down the right arm. The employer had originally thought he had purchased workers compensation coverage through his liability carrier; however, he learned after the incident that his business was completely uninsured for workers compensation injuries. Over the following months the case was heavily contested and litigated by both the uninsured employer and the "Virginia Uninsured Employer's Fund." The employer alleged that the claimant had been smoking marijuana just prior to the accident and the worker leaned across the moving machinery against the advice of coworkers. Virginia injury lawyer Thomas McWeeny was able to prove that there were no tests performed on the date of the accident or testimony from the employer's witnesses that could establish that the worker had been intoxicated. This along with the credible testimony of the injured worker, his girlfriend and his coworker persuaded the Virginia Workers Compensation Commission that the worker was entitled to benefits. Because of Mr. McWeeny's efforts, the judge ruled the worker was entitled to lifetime medical benefits, past due benefits, as well as weekly benefits while the worker remains unable to work. Further, this result will allow the injured worker to finally undergo surgery to his injured shoulder that he could not afford. In addition to workers compensation accidents, Mr. McWeeny represents clients in car accidents, products liability, personal injury, medical malpractice, slip and fall accidents, and construction accidents. If you would like to set up a free consultation with our Washington, D.C., Virginia, or Maryland injury lawyers, please call us today.