Spinal cord injuries often result from a sudden, traumatic blow to the spine that causes fractured or dislocated vertebrae. Sometimes, this can lead to permanent paralysis. These injuries often occur as a result of car accidents, diving accidents, gunshot wounds, premises liability incidents, sports accidents or other catastrophic events. Living with a spinal cord injury can be difficult because you are dealing not only with the medical injury itself but also with the frustration of immobility and the uncertainty of whether you will be able to regain any of your lost motor functions or sensation.
If you or a loved one has been permanently disabled in an accident caused by someone else, a Northern Virginia spinal cord injury lawyer from Koonz, McKenney, Johnson & DePaolis L.L.P.  may be able to help. In the past, we have been able to help clients secure millions of dollars in verdicts and settlements for spinal cord injuries.
What is a Spinal Cord Injury?
A spinal cord injury is an injury that results in a fracture or dislocation of your vertebrae. The majority of spinal cord injuries do not completely sever your spinal cord – rather, they either tear or put pressure on the nerves that carry signals from your brain to the rest of your body. In a complete spinal cord injury, the cord cannot relay messages to any part of the body below the injury and, as a result, the victim is paralyzed below that point. In an incomplete spinal cord injury, you may have some movement and sensation below the point of injury.
Symptoms of Spinal Cord Injury
The spinal cord injury symptoms you experience depend on both the location and severity of the injury. Higher spinal cord injuries cause more paralysis because the body is affected below the point of injury. Paralysis that affects the lower half of the body, including both legs, is known as paraplegia. Paralysis from the neck down, including both arms and both legs, is known as quadriplegia or tetraplegia.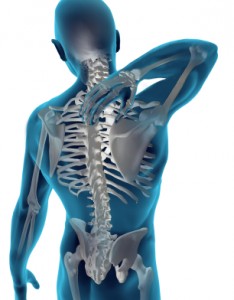 The different types of spinal cord injury you can experience will also affect your symptoms. Whether you have suffered from a complete or incomplete spinal cord injury determines whether you have suffered an entire or partial loss of motor function in the affected areas. Spinal cord injury symptoms may include the following:
Loss of sensation
Pain or an intense tingling sensation
Loss of movement
Inability to control bowel or bladder functions
Difficulty breathing or coughing
Uncontrollable spasm or increased reflex functions
If you have experienced any of these symptoms, you should consult a medical professional about your condition as soon as possible. Additionally, if you begin to lose consciousness, experience numbness in your extremities (hands, feet, toes, and fingers), suffer from impaired breathing or feel extreme pressure in your neck, head or back, you should immediately seek the aid of a doctor.
Some spinal cord injuries are unavoidable. Taking certain safety precautions, however, can help you reduce your risk of suffering a spinal cord injury. Read these tips from a spinal cord injury attorney on what actions you can take to help prevent spinal injuries in accidents, on the job and more.
What to Do Following an Incident
Maintaining your health following a catastrophic accident can be an expensive endeavor. You may be able to qualify for economic and medical assistance programs in your community. Additionally, if your accident was the result of someone else's negligence, you may be able to recover medical expenses and lost wages as well as pain and suffering damages from the person who caused your spinal cord injury.
If you would like to pursue an action against the person responsible for your injuries, it is important that you contact a spinal cord injury law firm in Northern Virginia to assist you. You should seek legal advice promptly because your right to obtain monetary relief may be lost if you wait too long.
Learn More in a Free Case Review With a Spinal Cord Injury Attorney
If you have any questions about the effects of a spinal cord injury, or any potential actions you may be able to take, the Fairfax, VA personal injury attorneys at Koonz, McKenney, Johnson & DePaolis L.L.P. are available to assist you during this difficult time at no financial risk to you. We take many spinal cord injury claims on a contingency fee basis, which means you will not owe any money upfront for us to pursue justice on your behalf if we decide to take your case. You will only pay legal fees if we are successful. Contact us online or call one of our office locations to set up a free consultation with a spinal cord injury lawyer. Our highly respected Northern Virginia Personal Injury Lawyers are here to help you.