Diligent Maryland, Virginia, and Washington DC Medical Malpractice Lawyer – Determining Hospital Malpractice And Physician Negligence
Medical malpractice is an action or a failure to act by a physician, nurse, specialist, emergency room or another medical professional that negatively affects your health. Sometimes, it can be hard to tell whether your doctor has committed medical malpractice. Not all unsatisfactory medical, surgical or treatment results are acts of physician negligence. Medical malpractice occurs when a doctor or hospital fails to act within the accepted standards of providing medical care.
Our Washington DC medical malpractice lawyers provide the following information intended to assist you in learning more about types of medical malpractice claims and what medical professionals can do to prevent the unfortunate consequences of healthcare negligence. With this understanding of medical malpractice claims in Virginia, Maryland, and DC, patients and families injured by acts of malpractice can make better-informed decisions about the legal options available.
With more than 30 years of legal experience handling cases in medical negligence law, our Maryland, DC and Virginia malpractice attorneys want to help patients and families stand up to the healthcare companies and professionals at fault when medical mistakes cause unimaginable harm.
Common Types of Medical Malpractice Cases
Medical malpractice is a broad claim that encompasses a variety of medical fields. The following malpractice claims fall under the broad umbrella of potential and common medical negligence claims:
Birth injury, such as those resulting from birth asphyxia or forceps injury during labor, can cause serious medical conditions like cerebral palsy and Erb's palsy
Misdiagnosis of conditions that leads to severe personal injury or wrongful death
Failure to conduct the appropriate medical tests
Malpractice injury or lack of appropriate medical care that causes wrongful death
Spinal cord injury or traumatic brain injury resulting from physician negligence
Failure to diagnose cancer, impending heart attacks, appendicitis or other common conditions
Failure to provide treatment, or properly treat medical conditions
Drug and pharmaceutical errors
Surgical errors, including operating on the incorrect area of the people, incorrect patient or leaving surgical instruments inside the body
Medication errors and other acts of medical negligence in nursing homes
If you or a loved one has encountered any of these situations, the skilled and proven Virginia, Maryland and Washington DC medical malpractice attorneys from the law firm of Koonz, McKenney, Johnson, DePaolis & Lightfoot, L.L.P. are prepared to help answer questions of how you can hold the negligent medical care provider accountable for devastating mistakes.
How to Prove Medical Malpractice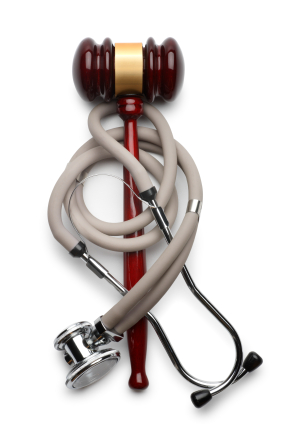 To have a successful medical malpractice lawsuit in DC, Virginia or Maryland, patients must establish that:
The healthcare professional owed a duty to you, like a doctor/patient relationship
The duty was breached by the physician
That breach resulted in an injury to you
You suffered emotional or financial losses as a result of the medical malpractice injury
If your malpractice case meets these necessary elements, or if you need assistance determining if your claim meets these factors for malpractice, contact a highly experienced Washington DC Medical Malpractice Lawyer at our personal injury law firm to discuss your experience in a free case review.
Can Doctors Prevent Medical Malpractice?
A medical malpractice lawsuit usually comes as the result of a series of failures in practices and procedures by doctors, nurses and other hospital staff. Our medical negligence and malpractice attorneys know where potential problems can begin that may lead devastating and fatal patient malpractice injuries.
Hospitals and physicians may help prevent injuries caused by medical malpractice by:
Maintaining open communication with the patient
Always providing informed consent
Keeping up with current research on treatment methods
Making sure schedule follow-ups
Not straying from established policies
If you or a loved one was harmed by medical malpractice, it likely involved a lapse in one of the above practices.
Do I Have a Medical Malpractice Case? Ask Our Washington DC Medical Malpractice Attorney.
We also represent clients in MD, DC and Fairfax VA
If you feel that you have been subject to medical malpractice or surgical error, contact a medical malpractice lawyer at Koonz, McKenney, Johnson, DePaolis & Lightfoot, L.L.P. for help documenting the details of your case. We have experienced using the best medical experts, investigators and other legal resources to build strong medical malpractice claims to fight on behalf of clients to gain the compensation they deserve.
You do not have to suffer in silence. What happened to you and your family may not have occurred if reasonable medical care had been provided. Call an experienced Washington DC medical malpractice lawyer today. No legal fees if we are not successful in gaining compensation on your behalf.  Please contact our highly experienced Washington DC Personal Injury Lawyers for any personal injury that you or a loved one has suffered.