Meet Our Maryland, Virginia And Washington, D.C. Injury Attorneys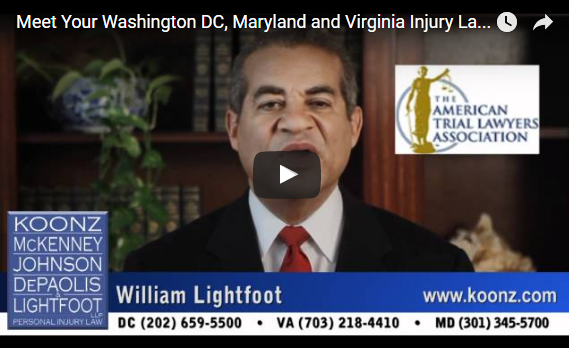 Video Transcript
For thirty years the injury attorneys of Koonz, McKenney, Johnson, DePaolis & Lightfoot, LLP have successfully obtained substantial monetary compensation on behalf of individuals who have been injured or killed due to the negligence or wrongdoing of others.
The firm is one of the largest, most experienced, and most respected plaintiffs' personal injury firms in the region.
Four of the firm's attorneys have been selected as Top Lawyers by Washingtonian Magazine, six have been chosen by their peers for inclusion in Washington, D.C. Super Lawyers, and four have been selected for inclusion in The Best Lawyers in America®. Eight of the attorneys have been ranked Preeminent by the Martindale-Hubbell Peer Review Ratings and the firm has been rated as a Preeminent law firm, signifying very high legal ability and ethical standards.
Koonz McKenney represents people who have been injured due to motor vehicle crashes, construction site, and other job-related accidents, malpractice by hospitals and doctors, asbestos and other defective products, and others' carelessness.
The firm concentrates in handling cases involving catastrophic injuries such as burns, brain injuries, and spinal cord injuries.
Through skillful strategy and the use of a team approach, the firm has helped our clients to achieve the financial security and peace of mind they deserve to resume their lives after injury or a loved one's death.
Koonz McKenney takes pride in making our community a safer place to live.
For example, the firm's successful cases have improved child safety, medical procedures, household products, tap water, subway and bus transportation, and construction sites.
Three attorneys have been honored as Trial Lawyers of the Year by the Trial Lawyers Association of Metropolitan Washington, D.C., with two having served as past-Presidents of that association.
One attorney is a Fellow of the International Society of Barristers.
Two are Fellows of the American College of Trial Lawyers. One has served as President of the Women's Bar Association of the District of Columbia as well as President of the Bar Association of the District of Columbia.
Two of our partners are past-presidents of the Fairfax County Bar Association.
We take seriously our professional responsibility to improve the quality of justice through voluntary bar association and pro bono legal services.
Koonz McKenney's legacy of excellence, leadership, and success motivates our attorneys to fight zealously for each client in the pursuit of justice.
Please call for a free consultation to analyze whether you have a meritorious personal injury case.
I am William P Lightfoot, Managing Partner of Koonz, McKenney, Johnson, DePaolis & Lightfoot, LLP Thank you for watching our video.
William Lightfoot