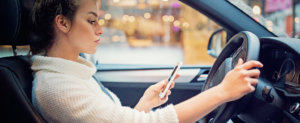 From cell phones to satellite radio, there are now more ways than ever for drivers to become distracted. Distracted driving unnecessarily puts others at risk by increasing the likelihood of a serious or fatal accident. If you or a loved one were hurt in a Maryland distracted driving accident, getting the compensation you need could be an uphill battle.
You shouldn't have to worry that you'll be injured or killed just because someone isn't concentrating on driving. The car accident attorneys of Koonz McKenney Johnson & DePaolis LLP know what it takes to hold distracted drivers liable. Our team will investigate what happened in your case and go to work for you.
Maryland Distracted Driving Accident Laws
Maryland drivers cannot use their cell phones while driving in any way, unless they have a hands-free device. That means no texting, emailing, using apps, dialing, or talking without a speakerphone, Bluetooth wireless, or other hands-free apparatus. Drivers under the age of 18 are prohibited from all cell phone use, even hands-free. There are exceptions for emergencies, like calling 911 or dialing for police.
While cell phones are a major cause of distracted driving, there are many others. Anything that takes the driver's attention away from safely operating the vehicle may be considered a distraction. Some examples include:
Eating and drinking
Listening to the radio
Putting on makeup or combing your hair
Using a GPS navigation system
Talking with other passengers
Dealing with children or pets
Distractions outside the vehicle, e.g. another accident
Maryland law generally imposes fines and license points for distracted driving, but these don't always deter such behavior. While law enforcement can pull you over if you're caught texting while driving, it's much more difficult to prove distracted driving after an accident has occurred. That's because there are few victims who actually witness such driving in the immediate moments before a crash. Even if you do happen to see someone using their phone or otherwise not paying attention, it's your word against theirs. What can a victim do to prove their case?
How To Prove A Distracted Driving Accident
Accident investigations don't end with he-said/she-said statements. If you've been injured and suspect the other driver was distracted, a skilled Maryland car accident attorney can dig deeper to find evidence.
For instance, cell phone records can be used to prove the other driver was talking, texting, sending emails, or using a web browser or app at the time of the crash. There may also be other eyewitnesses to bad driving behavior such as swerving, speeding, hitting brakes, or otherwise acting in a manner consistent with distracted driving.
Accident reconstruction can be used to analyze the crash scene and determine if there's evidence of distracted driving. For example, the explanation given by the responsible driver for why the accident happened could be inconsistent with the damage done to the vehicles. A reconstruction expert can be especially useful in a catastrophic accident with serious and life-changing injuries.
How To Hold The Other Driver At Fault
Compensation for automobile accidents, including those caused by distracted driving, is pursued in civil court by using a legal concept known as negligence. Negligence means the other driver failed to act responsibly, given the circumstances, and thereby injured the victim. More specifically, the injured victim has to show the following elements of a negligence claim:
Duty. Drivers owe other drivers, pedestrians, and bicyclists a duty to follow all traffic laws and operate their vehicles in a safe manner. The same duty is owed to other passengers in the vehicle.
Breach. The victim must show that through some act of negligence, recklessness, or intentional wrongdoing, the other driver breached that duty. The breach is often the most contested part of a negligence lawsuit.
Causation. This means showing the distracted driver caused injury to the victim. Either the patient's injuries, or some worsening of their injuries (e.g., aggravating a pre-existing condition), must be a direct result of the driver's actions.
Damages. The injured driver must have suffered damages, which usually come in the form of medical bills and lost time from work. There are other types of damages like pain and suffering.
The negligent driver's insurance company will usually step in to provide compensation. But you should be wary of dealing with insurance companies. One common tactic used by insurers is to ask the victim to give a recorded statement about what happened. The adjuster may ask you questions designed to coerce you to "admit" to liability or partial liability for your accident. Later, this recording may be used against you.
Insurance companies are also well-known for underpaying and even denying legitimate accident claims. Just because the insurer reaches out to you does not mean they will make a fair settlement offer or one at all.
Maryland Areas We Serve
Before speaking with the insurance company, talk to our experienced Maryland personal injury team. The attorneys of Koonz McKenney Johnson & DePaolis LLP help distracted driving accident victims in these suburban Maryland locations:
Prince George's County
Montgomery County
Calvert County
Charles County
St. Mary's County
What If I Was Partly At Fault?
Maryland is one of a handful of states that still use the outdated rule of contributory negligence. This means that if the victim was even 1% liable for the accident, he or she won't be able to recover anything from the responsible driver. Unfortunately, this creates an incentive for the other driver to falsely accuse the victim of somehow being responsible for the wreck.
Cases like these are why you need an attorney, regardless of the circumstances surrounding the accident. Our firm will get to the bottom of what happened and demand the responsible party pay for your injuries.
Contact An Expert Maryland Distracted Driving Attorney
At Koonz McKenney Johnson & DePaolis LLP, we understand that all you want to do after an accident is to get your life back to normal. Insurance companies know this too, which is why they try to pressure victims into accepting unreasonably low offers. Don't settle for less than your case is worth. Contact us today.