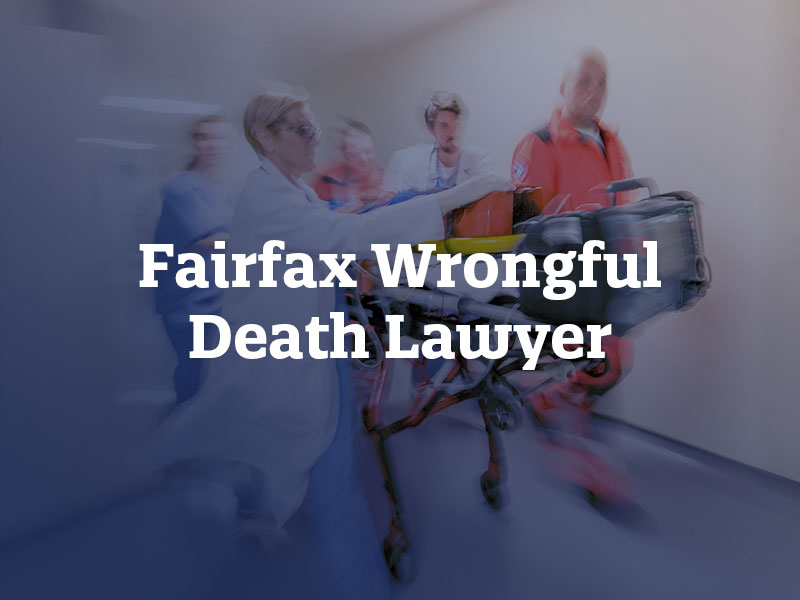 An unexpected death is devastating, especially when caused by the negligence of another party. Whether the loss occurred due to an auto accident, through the use of a defective product, medical malpractice, a construction accident or another cause, the wrongful death lawyers at Koonz McKenney Johnson & DePaolis LLP can assist you at this painful time.
Our Northern Virginia wrongful death lawyers have the extensive knowledge and skills needed to seek compensation on your behalf. Contact us to schedule a free consultation today. 
Why Choose Our Northern Virginia Wrongful Death Attorney?
We understand no amount of money will alleviate your suffering, but we are dedicated to helping your family avoid financial hardship.
We have been reliably representing families in wrongful death cases for over 38 years.
You will only pay for our services when we successfully resolve your case.
What is a 'Wrongful Death' in Northern Virginia?
Each state has a unique statutory definition of wrongful death, but most are in the same vein: a death that arises from the wrongful act of another. You might have a wrongful death claim in Virginia if the recent death of your loved one meets the definition under the Code of Virginia section 8.01-50. This law states that survivors may have an action for wrongful death if the wrongful act, neglect or default of any person or entity caused the death. As a general rule, if the deceased person would have had the right to file a personal injury claim, survivors will have the right to file for wrongful death.
The Causes of Death That Can Lead to Wrongful Death Civil Actions
Any death that stems from the wrongful or negligent act of another person could give surviving family members grounds for a claim in Virginia. However, certain circumstances surrounding deaths are more common than others in wrongful death lawsuits. Situations in which one or more parties were responsible for the wellbeing of the decedent, yet negligently or recklessly failed to fulfill this responsibility, could point to grounds for a lawsuit.
Acts of violence
Fires and explosions
Animal attacks
If you suspect that someone reasonably could have prevented your loved one's death in Virginia but negligently failed to do so, speak to an attorney about your case. A lawyer from our firm can review the circumstances surrounding your loved one's death and let you know if we believe you have the elements of a claim. From there, we can help you file your claim with the correct Northern Virginia courtroom by the state's deadline.
Filing a Wrongful Death Claim in Northern Virginia
Not everyone may have the legal right to file a wrongful death claim in Virginia after the death of a beloved family member. Like most states, Virginia has laws that restrict who can bring these types of lawsuits. Family members or dependents of the deceased, known as "statutory beneficiaries," may file a wrongful death claim in Virginia in the following order:
Who Can File
The surviving spouse
Children
Grandchildren
Surviving parents
Siblings
Relative who is considered a dependent and shares their household
Surviving family member inheriting the deceased's estate under Virginia's intestate succession laws
Parents may not file or receive compensation in a wrongful death claim in Virginia if they abandoned the deceased during their childhood. If you are not sure whether you have the right to file for wrongful death, discuss your case with one of our attorneys. We can analyze your specific situation and help you determine which person in your family can bring the claim on behalf of all dependents.
Civil vs. Criminal Wrongful Death Cases in Northern Virginia
If your loved one died due to a crime such as homicide or physical assault in Northern Virginia, it is important to recognize the differences between a civil and a criminal case. Both seek to hold the defendant responsible for your loved one's death but in different ways. A civil wrongful death claim aims to make the defendant pay for your family's losses, while a criminal case convicts and sentences the defendant for a crime. You will be responsible for bringing a wrongful death claim, while state or federal prosecutors will bring criminal charges.
Another important difference is the burden of proof. In a criminal case, the burden is to prove the defendant is guilty beyond a reasonable doubt. In a civil case, on the other hand, the burden of proof is lighter. The plaintiff's attorney must prove that it is more likely true than not true that the defendant caused the decedent's death. It is not necessary to prove intent; proving negligence can be enough to win a civil wrongful death claim.
Can Someone Go to Jail in a Northern Virginia Wrongful Death Lawsuit?
No, someone will not go to jail in a Northern Virginia wrongful death lawsuit. These lawsuits exist separately from the criminal justice system. A civil judge and jury will not have the power to convict or sentence a defendant for a crime. Instead, the outcome of a successful wrongful death lawsuit will be financial compensation for the plaintiff and other surviving dependents. However, if a criminal case resolves while a civil case against the defendant is still pending, a conviction could serve as further evidence of the defendant's fault in the wrongful death claim.
The most common criminal charges against a defendant involved in a wrongful death lawsuit are homicide, murder, voluntary manslaughter, and involuntary manslaughter. These charges all refer to the intentional or reckless killing of another person. Some criminal charges come with the burden to prove intent or malice while others do not. A criminal conviction for the death of another person could come with years to live in prison, probation, and hefty fines as punishment.
Even if a criminal case against the defendant decides he or she is not guilty, you could bring a wrongful death claim. One type of claim is not dependent upon the other. Just because the defendant did not meet the definition of homicide or manslaughter does not mean he or she did not commit a wrongful act that killed your loved one. In the infamous case against OJ Simpson, for example, California courts found him guilty of wrongful death but not guilty of first-degree murder.
Damages You May Seek Compensation for in a Northern Virginia Wrongful Death Claim
Surviving family members often want to bring wrongful death claims for multiple reasons, such as to hold the at-fault party responsible and shed light on deadly practices in the community. A family may also, however, need financial relief during this difficult time as it deals with expensive medical bills, funeral expenses, and lost wages. As a grieving family member, you may be able to obtain compensation for:
Grief and mental anguish
Loss of the consortium (deceased's care and companionship)
Loss of income and benefits, as well as expected future income
Medical expenses related to fatal injuries
Reasonable funeral expenses
Punitive damages
Unlike most damages, which are intended to compensate surviving family members, punitive damages are meant to punish the defendant for their reckless behavior and disregard for the safety of others. Virginia has a $350,000 cap on punitive damages in all claims. It also has a $2 million cap on total damages in medical malpractice lawsuits. A lawyer from Koonz McKenney Johnson & DePaolis LLP could help you maximize a compensatory award using proven legal strategies.
Proving Negligence in a Northern Virginia Wrongful Death Claim
Obtaining a settlement or jury verdict for the wrongful death of your family member takes proving your case before an insurance company, judge, and/or jury. The burden to prove the defendant's fault based on a preponderance of evidence rests with the plaintiff. The plaintiff, typically a surviving family member, must prove these four elements to successfully show that the defendant's negligent actions resulted in their loved one's death:
The plaintiff must prove that the defendant owed the deceased person a duty of care, such as the obligation to obey traffic laws and drive carefully, in a case involving a car accident.
The plaintiff must also prove that the defendant breached the duty of care owed to the deceased person. For example, in a case involving a car accident, the plaintiff needs to prove that the defendant disobeyed traffic laws and was speeding or ran through a red light at the time of the collision.
The plaintiff must prove that the breach of the defendants' duty of care directly caused the wrongful death.
The plaintiff must prove that they suffered monetary losses, such as medical expenses, funeral costs, loss of deceased's income, etc.
Many wrongful death claims in Northern Virginia settle outside of the courtroom through negotiations between attorneys for both sides. A lawyer can help you gather evidence that could prove the existence of these elements to strengthen your case. Our attorneys could, for instance, return to the scene of the fatal accident, hire investigators, work with accident reconstructionists and hire expert witnesses to help establish the defendant's fault and negligence. Working with one of our lawyers could make a wrongful death claim easier on your family.
When Do You Need a Northern Virginia Wrongful Death Lawyer?
Taking on the complicated task of filing a wrongful death claim at an already painful time is an added burden that you don't need. The process tends to require an extensive amount of time and investigating. An experienced wrongful death lawyer will be able to determine the amount of money that you and your surviving family are warranted, gather sufficient evidence, and negotiate with insurance companies on your behalf. You will have the ability to focus on yourself and your family.
Lawyers With Experience
It is critical to entrust your wrongful death lawsuit to an attorney with experience. A legal professional with years of practice handling wrongful death claims in Virginia will know exactly how to take care of your case for the best odds of success. At Koonz McKenney Johnson & DePaolis LLP, we have proven our abilities time and time again. Our past case successes showcase results we have obtained on behalf of grieving families across the country in wrongful death claims.
$3 million. We achieved this settlement for the wrongful death of a teenage boy in a motor vehicle accident. We used the aid of a crash reconstructionist to prove that the vehicle in which the boy was traveling was going far over the posted speed limit.
$1.2 million. We recovered $1.2 million on behalf of the family of a 95-year-old woman who died after a van struck and killed her while she was walking. We proved the driver of the van was using his cellphone at the time of the accident.
$750,000. In a medical malpractice case, we convinced the D.C. Court of Appeals to uphold a $750,000 jury verdict in favor of the surviving wife and son of a Metrobus operator who died after a doctor negligently failed to prescribe blood thinners.
Our lawyers do not shy away from having to take wrongful death lawsuits to court in Virginia if that is what it takes to obtain the results we believe our clients deserve. We have proven our capabilities in and out of the courtroom, obtaining settlements as well as jury verdicts in the six- and seven-figure range for clients. Find out what your case might be worth, and how we can help you maximize compensation, during a free consultation.
Contact Our Northern Virginia Wrongful Death Attorney Today for a Free Consultation
Surviving family members have only two years to take legal action. Speak to a highly knowledgeable wrongful death lawyer at Koonz McKenney Johnson & DePaolis LLP today and discuss your options. Fill out our contact form to schedule a free consultation.