The Occupational Safety and Health Administration (OSHA) reports that in 2012, on average, almost 100 workers died every week on American construction sites – more than a dozen deaths every day. This number is actually lower than in past years, and yet it is still far too high.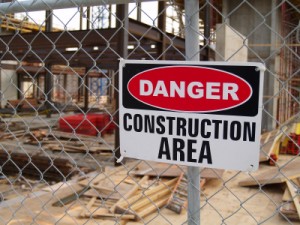 Construction company owners and supervisors need to be far more careful in adhering to safety guidelines on job sites.
If you are on a jobsite and you see that rules are not being followed, raise a red flag, file a complaint—remember that you cannot be retaliated against for following safety procedures!
Earlier this month, a female construction worker was fatally hurt at Georgetown University's Leavey Center, on the site of the new science building.
When emergency services arrived on the scene, fellow construction workers were performing CPR on the woman. She had been operating a platform lift and somehow got pinned between an overhead railing and some scaffolding. Her co-workers had gotten her free by the time the EMS team arrived, and she was rushed to a nearby hospital, but later died from her injuries.
Construction of the new science center is being managed by Whiting Turner, and work has been halted while OSHA investigates the accident.
Have You Been Injured on a Construction Site?
If you have been forced to work in unsafe conditions due to your employer's negligence, call us right away. Our attorneys are here to explain the intricacies of OSHA and to assist you in pursing your construction accident claim.
Koonz, McKenney, Johnson & DePaolis L.L.P.
Maryland, Washington, D.C. and Virginia Injury Attorneys
Did You Know? Construction sites have a commonly known "Fatal Four" list of types of on-the-job injury. They are falls, being struck by an object, electrocution and getting caught between objects.